by Rachel Atkinson
Summer Intern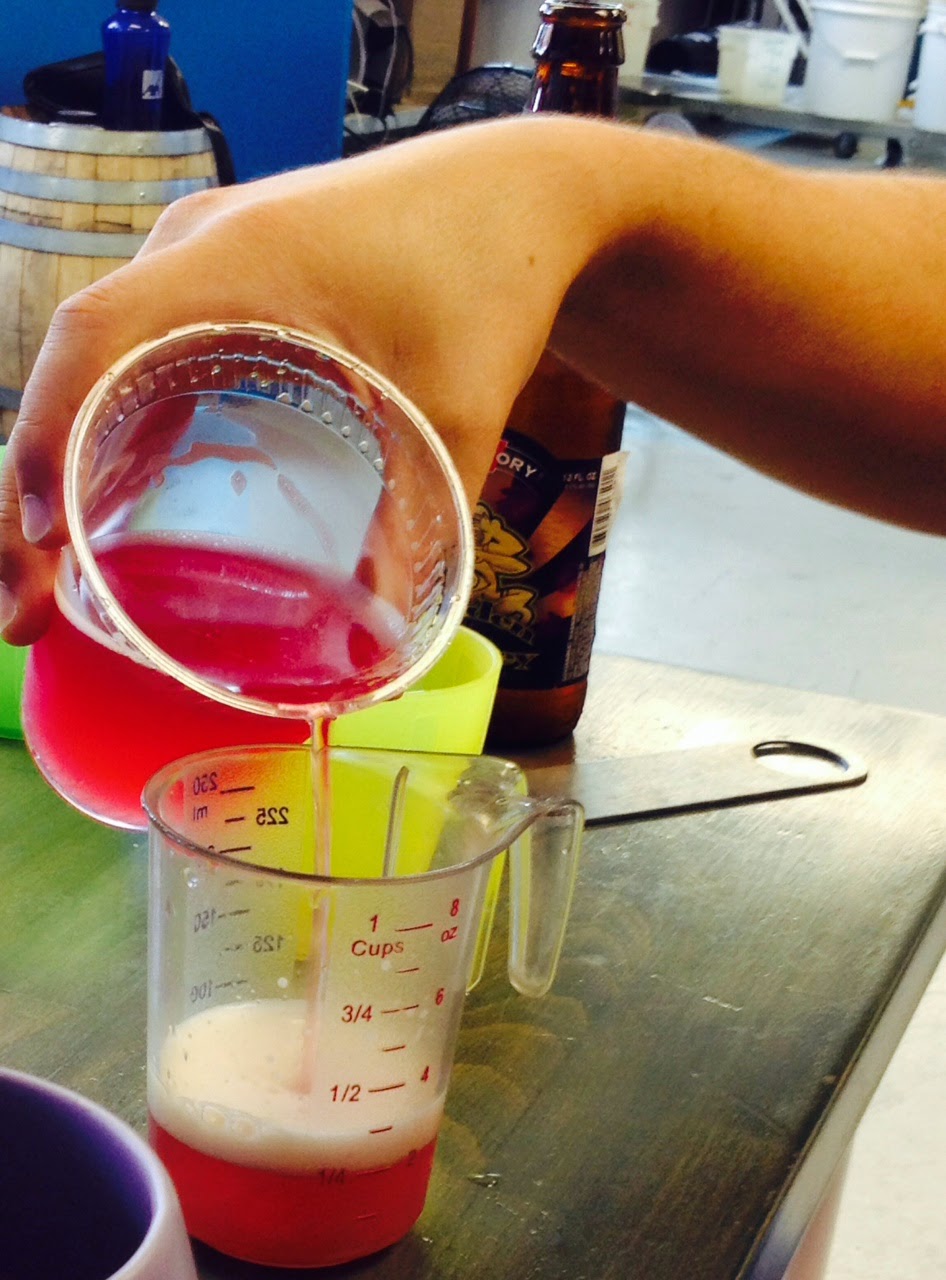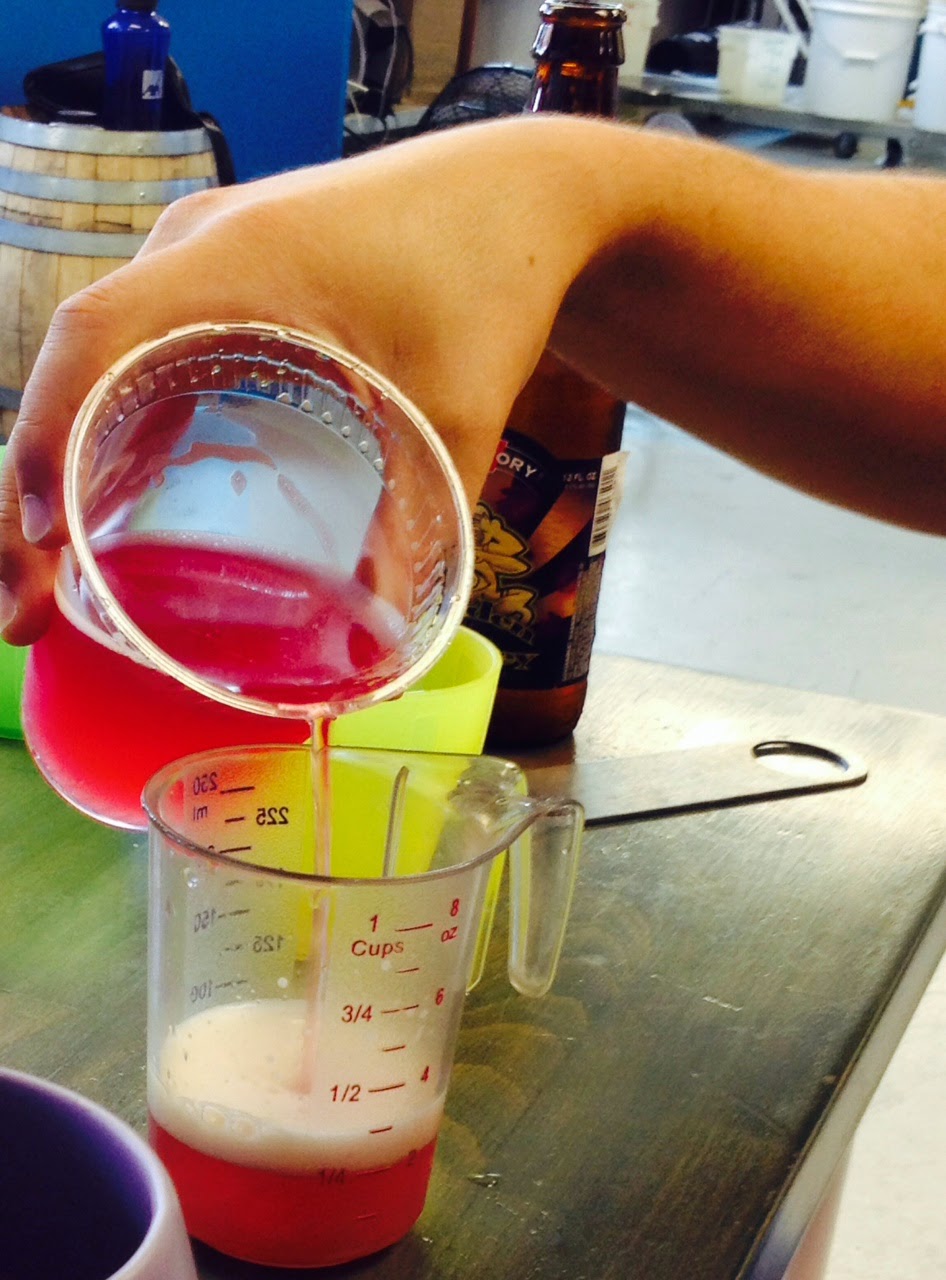 Beer belongs to the small group of fizzy beverages I consider as delicious and refreshing as our sodas. But in the middle of a long New York summer, I admit that I occasionally find myself wishing that my beer were a little bit more like a soda. Or that my soda was a little bit more like a beer.
Enter the shandy. For the unenlightened, a shandy is a mix of beer and soft drink. Surrounded by the best sodas in New York, the Brooklyn Soda Works crew decided that mixing the perfect shandy was a perfect Monday afternoon endeavor. To get the ideas rolling, we took a brief stroll through shandy history.
Brits have been mixing their beers for well over a century. A 1900 British newspaper piece teaches us of all the many common beer "blends" of the time. For example, here are three common shandies:
Portergaff: Ginger Beer and Porter
Shandy or Shandygaff: Ginger Beer and Mild Ale
Shandybitter: Ginger Beer and Bitter (Pale Ale)
Historically, shandy referred to beer mixed with ginger beer. And yet, the shandies in the typical American beer aisle are almost uniformly mixed with citrus of some sort. These drinks have more in common with the Radler – the German take on the shandy.
According to one story the radler, which means "cyclist" was invented in the 1920s, when a crowd of cyclists overwhelmed an innkeeper's beer supply. He cut the beer with lemon soda to stretch the brew, and declared he was doing so to prevent drunk cycling. The drink was a hit, and was soon copied all over Germany. Today, radlers are typically made with a 1:2 or 3:2 ratio of beer (often Pilsner) and lemon soda.
While other regions have all sorts of beer blends as well, we took our inspiration primarily from the shandygaff + radler lineages.
Our experiment involved six beers (Blue Point's Summer Ale, Founders All Day IPA, Victory's Golden Monkey, Brooklyn Brewery's Pilsner, Founders Porter, & Hofbrau Hefe-Weizen) and 6 sodas (Watermelon Tarragon Lime, Ginger Beer, Hibiscus Mint, Lemon Thyme, Blueberry Lemon & Arnold Palmer).
We tried just about every combination imaginable. Some were perfectly refreshing, and some were a little bizarre (adding fruit to Brooklyn Brewery's Pilsner somehow creates a flavor reminiscent of children's chewable vitamins). Here are some of our favorites:
Golden Monkey + Blueberry Lemon: Golden Monkey, a Tripel with a rich malty flavor, was the perfect match for our light, sweet Blueberry Lemon.
Founders IPA + Ginger Beer: The spices in our ginger beer brought out the citrusy notes of the IPA's hops. Bright, grapefruity, and very refreshing.
Hoffbrau Hefe-Weizen + Watermelon Tarragon Lime: There are lots of watermelon-wheat beers on the market right now, but they've always tasted a bit funky to me. However, with our fresh, raw watermelon soda, I could finally see what they were going for. Fresh, lightly sweet, and very watermelon – this was the perfect summer drink.
Founders Porter + Arnold Palmer: Even though it's summer, we wanted to make a shandy with a porter, after a good experience with Porter/Hibiscus-Cinnamon last winter. Our favorite porter combination was a surprise, but the tea in the Arnold Palmer compliments the chocolately porter.
Bluepoint Summer Ale + Hibiscus Mint: This summer ale was light enough to let the mint shine through, and the hibiscus only made the summer ale more summery. Light, easy drinking!
While we would love to serve you shandies at our market locations, liquor laws will now allow. We encourage you to experiment with your own shandy mixes, and let us know how it goes!